When Life Gives You Lemons…
Wash Your Hands and Eat Lemon Cake Pops!
There are so many ways to finish the phrase, "When life gives you lemons…" It's especially true with all the tough stuff that is going on in the world right now.  (Unfortunately, taking the lemons and throwing them back at life's head isn't an option. Trust me. I've tried.) On one hand, it seems easier than ever to slow down and focus on the stuff that really matters.  On the other hand, it's hard, depressing, frustrating, scary and just plain sad. I don't like it.  I bounce back and forth between these two states of mind every other minute or so. Often, feeling both at the same time. So I figured the best thing to do was to embrace the truckload of lemons the world has dumped on us, and turn them into something yummy! After all, that phrase is just a fun way helping us find something positive to focus on when we find ourselves in a difficult situation.
Last week my kindergartner and second grader wrapped up their school year.  For us being so far removed from the classroom and the lack of normalcy to the end of the year, I found myself way more emotional than in past years. Maybe it's because school as we know it won't be the same for a very long time, if ever, and it breaks my heart.  Or maybe it's because this is the second year in a row Adalyn doesn't get to finish the school year.  Maybe it's the fact that my kids are dying to hug their friends and teachers. Or still yet, maybe it's because Carter woke up sad one day and refused to do school work because he "just wanted to talk to ONE friend."  Perhaps it's teaching social skills to kids in a digital world that just became that much more digital. Or maybe it's all of those things put together.
Carter is the happiest kid you will ever meet, but he was so sad about not having his kindergarten graduation ceremony. We worked hard to make his day extra special.  And I actually think it turned out way better than simply going to a ceremony.  We ordered his favorite dinner: fancy sandwiches (known to the rest of the world as sub sandwiches). He can put away way more than me in no time flat.  And it's generally accompanied by smiling, dancing in his chair and chanting something about how much he loves fancy sandwiches and how happy he is.  I bought him red, white and blue flowers, because if you don't know us very well yet, you will soon learn the undying love my sweet boy has for the American flag and anything in those colors.  There was chocolate cake, ice cream and root beer floats.  I made a huge scavenger hunt for him to find his graduation present, which was a toy he'd been dreaming of for a long time. (As you can see from the pictures, it did not disappoint!) And of course, Grandma and Grandpa came and hung out for a backyard date with us and got to watch the virtual ceremony with us.  It was a pretty epic day. He was so happy, and that made my mama heart happy.
I tried to make Adalyn's last day special too by making her and one of her best friends matching shirts and having a Chick-fil-a parking lot date. This is the second time we've done it and I really think it helps her to see someone in person (shocking!), even if they have to stay 6 feet apart from each other. As the evening went on, I finally spotted a few smiles on her face.  Those are hard to come by these days.  I think she's 16, secretly posing as an 8-year-old. But I guess we'll never know.
After saying goodbye to their whole world via Zoom, we headed to school the following day for the first time since before spring break. Their school belongings were returned to us, just like everyone else's: in huge trash bags that were placed in our car by people with masks on. The whole thing was so surreal, and still didn't feel like we really had any closure on the strangest school year to date.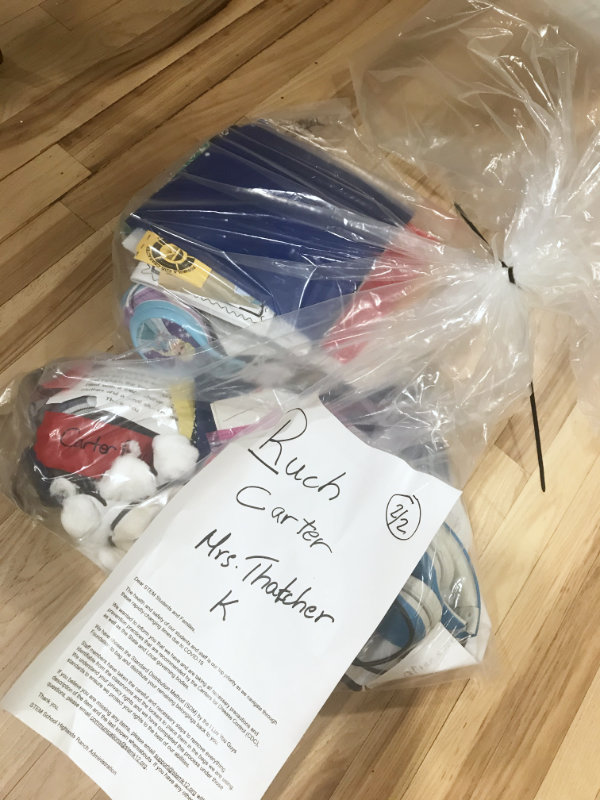 With all of these heavy feelings, I was craving something crafty to do.  I mean REALLY itching to use the creative part of brain! It's never as fun to craft for myself as it is to make something amazing for someone else.  Since this quarantine started, there hasn't been much need for customized birthday invitations or party planning, so when my friend asked if I wanted to make some cake pops for the teachers as end of the year gifts, my answer was a big, fat, overly loud (even via text) YES!  
My friend is a great baker, so we have this deal where she prepares the naked cake balls and then I decorate them.  I'm not very good at coming up with ideas on my own, but I literally fall apart (in a good way) when I see something that I know will be cute and perfect for whatever event it's for.  The idea for the soap bars came from my cake pop idol, Bakerella. I have made hundreds, (maybe even thousands by now) of her cake pops.  I also own her books and make things from it very frequently. She is brilliant and comes up with the best ideas! Maybe one day I'll get the chance to meet her and collaborate on a project or two. 
I knew I wanted to do something totally different and related to the quarantine, so when one of her Pinterest posts came up with these bars of soap, I instantly knew I had a winner!  And seriously, when else am I going to have the opportunity to make SOAP BAR cake pops?!  These are once in a lifetime! They came out so great once I finally figured out my method. I mean, oh my gosh (or "holy chalupa pants" as my 4-year-old would say), can you even stand the cuteness?!  I'm dying!
I made an impulse buy and bought a Wilton melting pot and insert.  I know the pros probably don't use it, but I'm seriously IN LOVE.  When I'm working with candy melts for hours at a time, I don't have to pop a cup back in the microwave every few minutes.  It kept everything so fluid.  And I could add a little heat with the flip of a switch when it started to thicken up. It really is magical.  I might even treat myself to another one if I have another project that requires lots of colors!  I'm not fancy enough to have sweet deals to promote these things and get paid for it.  I just really, truly like it and I never want to make cake pops again without it!
The soap bars are potentially one of the hardest cake pops or cake truffles I've ever done.  If you've ever made pops of any kind, you know after you dip your cake in the candy melts, you have to shake off the excess.  I constantly move the cake pop around in all different directions so the coating cools evenly and doesn't pool up somewhere.  I usually do this for a minute or so until the coating becomes hard.  However, I wanted to add the bubbles while the coating was still wet.  You can imagine what happens if you put those decorations on while the coating is still too fluid.  They slide ALL OVER THE PLACE.  So I had to figure out my timing where it was just wet enough to add the sprinkles, but dry enough that they didn't move around too much and mess up the coating.  Let's just say, it took me until about the last 10 to really get my groove down. If there's ever an instance where someone needs cake pops that look like bars of soap, I'm your girl!
I purchased the rectangle cookie cutters Bakerella suggested and then went on the hunt to find something to make an imprint in the middle of the soap. Lucky for me, I stepped on a Candy Land piece at the bottom of the stairs and knew it would work perfectly. I flattened the cake pops slightly and then cut them out. I used my hand and pressed the sides against the outside of the cutter to get sharp lines and edges. Then, I used the Candy Land man to put a slight impression on the face of the bar. Next, I dipped a treat stick into the candy melts about 1/2 in, and then inserted it into the bar of soap. I push it in a little over half way and then popped it in the fridge to harden. (The cake itself also starts to get too soft if you leave it out at room temperature for too long, so I generally work on 2 or 3 at a time and leave the rest in the fridge.) I used an entire bag of bright white candy melts and a couple of small handfuls of blue mixed together so I could achieve that light blue hue I was looking for.
After my soap bar buddies were secured on their sticks, I coated them in candy melts and started to add the bubbles, which are just different sized white sprinkles. (The largest ones are Sixlets.) Once I was happy with the placement, I stuck them into a block of styrofoam to let them dry at room temperature.
Once the bubbles and coating were hardened, I used tweezers and a little bit of candy melt to adhere two black confetti sprinkles for the eyes. I used a toothpick dipped in candy melts to make the iris. The facial expressions were all made with a black edible marker. Finally, I used some luster dust with a clean, food-only paintbrush to give all my new friends rosy cheeks.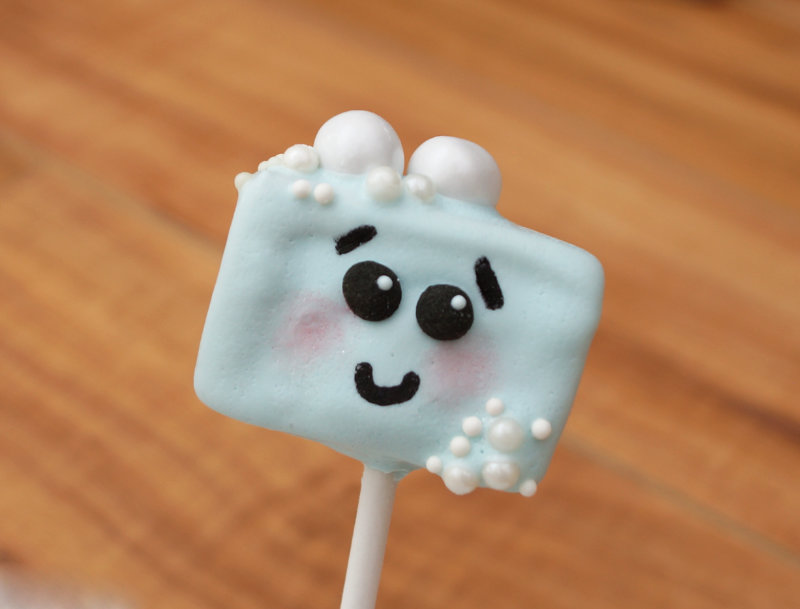 I made about 40 of these and still had quite a few naked cake balls left over.  So I decided I could just do some regular cake pops to accompany my bubbly friends.  But the moment after I thought that, I knew I could come up with something better.  My friend used lemon cake and we had the idea to include something with lemons.  And so the idea was born: When life gives you lemons, wash your hands and eat lemon cake pops!  Back to Pinterest I went and found these super cute lemon-shaped cake pops by Moms & Munchkins, and I knew immediately they would be the perfect match for my little soap bars.  I decided they could be handed out in pairs along with a cute note displaying our tagline. I didn't have a lemon mold, so I formed them by hand.  (However, it might be something I invest in because I could see this shape being used for so many other things, including lips and mustaches.)
After the yellow lemons hardened, I followed the same process as the soap bars to make their faces. I found a lemon design that I cut out with my Silhouette Cameo for the tag, and then I popped the finished pops into bags and tied them up. My daughter had so much fun matching up all the "boy soaps" with their "lemon wives."
After wrapping up the school year and spending a couple of days (and late nights) making these lovelies, I was really tired!  I spent most of my holiday weekend sleeping and and dreaming about my sudsy buddies and their lemon ladies. I feel like I don't recover from the crazy things I do quite as fast as I did 10 years ago. I was the energizer bunny back then doing it all in bright pink heels.  Now, I stand in my old-lady-shoes and just seem to make interesting sound effects when I try to get out of bed the next morning. My feet were definitely sore for a couple of days!
But, all that being said, stuff like this makes me SO HAPPY and I LOVE how they turned out.  I hope these cute pops will bring a smile to your face too! 
Wash your hands, and as Bakerella says, "Stay safe and soapy!"
(And eat lemon cake pops!)
Love,
Charity